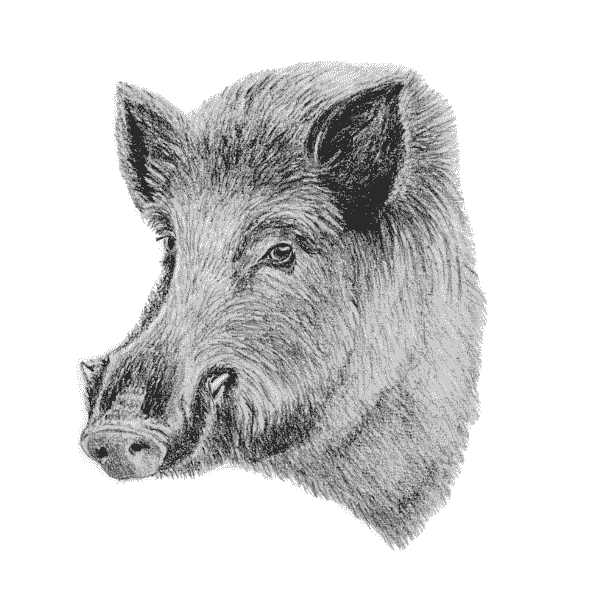 Wild Boar Driven Hunting
Live the excitement of wild boar driven hunting in Italy
The Wild Boar Hunting Experience
Wild boar driven hunting in Tuscany is not only the most traditional hunt in Italy, but also one of the most exciting you can experience. Deep into the amazing beauty of Maremma forest you'll be surrounded by the noises of barking dogs and beaters, with wild boars flashing around you and offering quick and challenging shots, or without any noise disappearing as ghosts behind the bushes. You'll spend the whole morning thrilled by each noise, seeing many wild boars and trying shots sometimes easy, but mostly extremely difficult.
The season for wild boar driven hunting in Italy runs from November until January and hunting is organized for a minimum of 5 hunters. The program can include 1 to 3 hunting days and, given the challenge of the shots we always suggest to hunt at least 2 days, in order to get used to the hunt and increase the success: missing running wild boars is easier than you can expect!
How to participate
Full Line – Your own tailored hunt
Minimum 6 guests

Select your favorite dates

Enjoy the villa and hunt in exclusivity

Tailor the shooting day at your preference

Organize activities & tour according to the wishes of each guest

Access the most exclusive experiences of Italian Safari Privé
Single peg – Join our Special 2023 Tour and Wild boar Hunting in Italy
Oct. 29, 2023 – Nov. 5
8 days, from Rome to the hunt, to the Florence countryside
Including VIP visits such as the semi-private visit of the Vatican Museums, private Roman ruins, vineyards and olive groves, special wine tastings and the uffizi gallery
The Special 2023 Tour and Wild Boar Hunt in Italy
Dates
Oct. 29 - Nov. 5, 2023 (8 days)
The Tour
Rome, Maremma and the Florence countryside
Hunting Days
2 (up to 4 wild boars included per hunter)
Price
€18.900 per couple, including 22% VAT
All Inclusive for 2 guests
5* and Boutique Hotels, VIP and off the beaten tracks visits in Rome and Florence, all breakfasts, lunches and dinners, transfers and guides as well as the exclusivity of the hunting area for 2 hunting days with 4 wild boars per hunter
Oct. 29 – 31 2023: Rome – 2 unique days visiting Rome off the beaten tracks, with a semi-private visit of the Sistine Chapel, a "private Roman ruin", the most traditional food and free time to explore monuments, boutiques and cafés.
Nov. 1 – 2: Maremma – Enjoy the most thrilling and traditional hunting experience in the country: wild boar driven hunt between the thick bushes of the Maremma forest, hosted in the private villa inside the hunting area and overlooking the ocean.
Nov. 3 – 5: Florence Countryside – Explore Tuscany, with it's vineyards and olive groves, food traditions and laid back lifestyle, all from one the nicest villas in the whole region.