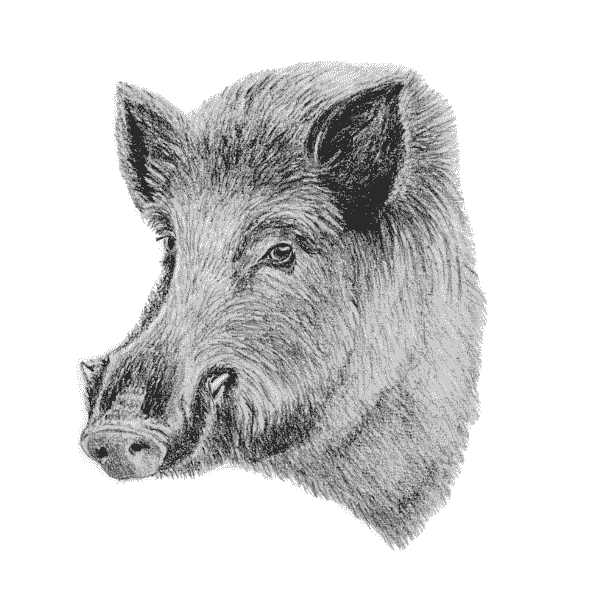 Wild Boar
Live the excitement of wild boar hunt in Italy
(Organized for single hunters only in combination with tourism programs)
Description
Italian Wild boar is now populating all the Country but was originally set in Maremma and Central Italy. Here, in the original habitat of the wood's beast, you will hunt at sunset, while the animals will come in the fields to feed.
Typically the hunting method is to hide in a high-seat overlooking small fields in the middle of the forest but thanks to the low hunting pressure, in our area is also possible to hunt on a spot and stalk base with the opportunity to spot many more animals and engage them in difficult but exciting stalks.
After dinner, when even the larger boars will get out of the forest, protected by the dark, you might night hunt them, slowly walking on dirty roads and spotting them in the fields, before engaging in the difficult stalk to get to the "night shooting distance" of 60 – 70 yards.
Wild boar hunting is the most traditional among all Italian hunts where, since centuries hunters are joined by their non hunting companions, this is still true today and our hunts are perfect to be shared with non hunters, ending the wild boar hunting days with typical Italian dinner in the main hall of the beautiful medieval castle set on the highest hill of the hunting area.
Suitable for
Hunters wishing to experience the countryside and an exciting hunt while visiting Central Italy.
WE ONLY ORGANIZE WILD BOAR HUNTING FOR SINGLE HUNTERS IN COMBINATION WITH TOURISM PROGRAMS 
Why will you like it?
Experience the most traditional Italian hunt

Enjoy the amazing location where the hunt take place

Take advantage of the endless tourism opportunities in the surroundings of the hunting area

Share your exiting day with your friends
| | |
| --- | --- |
| Duration | 1 - 2 days |
| Location | Umbria |
| Season | All year long (best time: November – May) |
| Other animals | Roe deer, Fallow deer |
| Airport | Florence or Rome |
Exploring the region
Base for this hunt will be Umbria region. The area is easily reachable in 2 hours from Florence and Rome or 1 hours from Siena. Umbria is known to be what "Tuscany was 20 years ago", with a wild countryside, vineyards, and small medieval villages. Cities like Siena and Assisi can be visited during the day.
Umbria is also known for the regional cuisine based on game, black truffle and salami. The amazing tourist attractions, the relaxed life style of Italian countryside and the way the hunt is organized make of this hunt a perfect experience to be shared with non hunters, who will visit the region in the morning and enjoy the castle or a cooking class waiting for the hunters in the evening.